Email marketing is one of the most effective ways to promote your brand, increase sales and generate leads. It may be one of the oldest tools, but email marketing is still the king of all digital marketing tools.
Why should I even care about email marketing in this social media-dominated world? True, today, most of us spend our time on social media, but as a digital marketing tool, you should not ignore over 4 billion user base industry. It is also forecasted that 3% of email users will increase every year.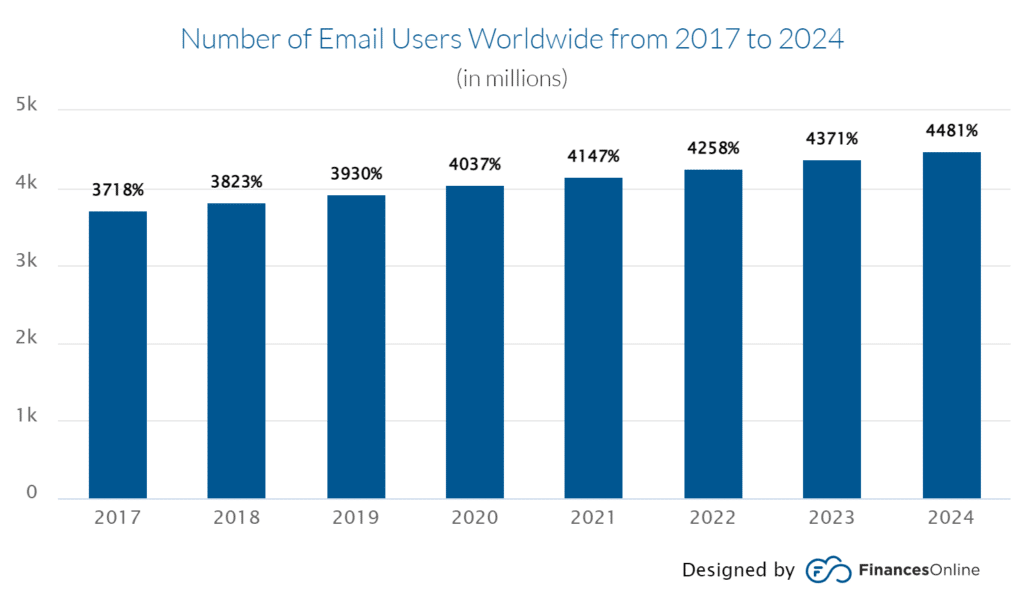 Also, this will blow your mind. Email Campaign generates a whopping $42 for every $1 spent, which is 4200% ROI, making it one of the most effective digital marketing tools.
One major take with email marketing is you don't have to worry about the algorithm changes like SEO or social media marketing. So, building a successful email marketing campaign is more important than ever. 
But wait, let's not just start writing emails to your users. With over 376 billion emails sent daily, your email should stand out among those competition, else your email will be buried among those billions of emails.
This post will help you with tips and strategies for creating an impactful email marketing campaign for your next product/service.
What is Email Marketing?
According to MailChimp, "Email marketing is a form of marketing that can make the customers on your email list aware of new products, discounts, and other services. It can also be a softer sell to educate your audience on the value of your brand or keep them engaged between purchases. It can also be anything in between."
Simply, it is a way of sending a promotional message to a mass audience.
How does Email Marketing Campaign work?
Just because sending an email is easy does not automatically generate a successful email marketing campaign.
A successful email marketing campaign needs to starts from basic, and here are some essentials you need to know.
1. Gather Email List
Before sending out emails, you need to have an active email list. These are the list who is actually interested in receiving marketing content for your brand.
There are many ways to generate an email list; you can read our blog "6 Tricks to generate email list". In simple, you can generate an email list by offering discounts and coupons in exchange for their email address.
2. Signup with Email Providers
Email Providers are email marketing software that will manage your email list. It also helps to design and automate your email campaigns. 
Some of the examples will be using Mailchimp, Constant Contact, etc.
Using these tools will help you manage your email lists, create automated triggers and get a detailed insight of your email marketing campaign.
3. Have a Clear Goal
For every successful digital marketing campaign, there must be a clear goal. The same goes for your email campaign. You need to define your goal; Goals could be
increase sale
brand awareness
customer engagement
Once you have your Email List, Email Provider, and Goal, you can get to work.
Make sure you create a responsive email design; most Email Provider Service offers these features for free, so use them. Before sending out those emails, test them on different devices.
Verify your email content aligns with your goals. Once everything is done, start sending out emails and track your campaign using Email Providers Reports.
Advantages & Disadvantages of Email Marketing
Like any other digital marketing channel, email marketing has advantages and disadvantages. Let's look into some of the advantages of using email marketing.
Advantages:
You can send personalized messages
You can start your Email Campaign for Free
Easy Tracking
Scalable
You are in Control
One of the best things about email marketing is you can be very personalized with your message. Research has found that being more personalized could increase your revenue by 760 percent.
Also, when you are in control of your campaign, you don't have to worry about any algorithm changes that could affect your performance, unlike SEO.
Disadvantages:
Too many emails to compete
Need Email List to Start
Tackle with Rules and Regulation
Delivery Issue
With almost everyone cluttering email inboxes, getting noticed and being effective is tough. Also, with email marketing, you cannot just start sending out emails to random audiences. You need to have a good email list who has signup with your brand.
You need to be careful about whom you send email to. Also, you have to follow the rules and regulations paced by the government, depending on where your audience resides.
Tools for Email Marketing
You can find different Email Marketing Tools out there, some are free, and some are paid. Some of the well-known tools you can use are.
GetResponse
HubSpot Email Marketing
MailChimp
MailerLite
MailJet
Sender
SendinBlue
SendPuls
You can start with any of the tools to get started.
Conclusion
An email has been there from the beginning and is still the go-to form of communication.
If you have been ignoring email because it is old technology, it's time to rethink it again. With the massive return of 4200% of ROI, it's a no-brainer to start using email marketing as one of the marketing tools for your business.